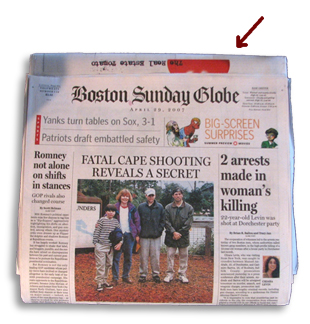 4:27AM, PST. The phone rings.
"I just picked up the paper and you wouldn't believe what's hanging out of it," my mother excitedly states.
"What?" I grunt.
"I'm sorry to wake you, I thought I was going to get the machine."  "You won't believe where the Globe put your logo in the paper, it's hanging right out of the front page!"
In what we hope not to be the peak of our mainstream media exposure, this Sunday, The Boston Globe offered a headlining piece on Real Estate Blogging.  Paul F. Roberts penned a timely article entitled "Brokers In Blogsville." 
You can read the piece in full on Boston.com.
The Real Estate Tomato was not only mentioned (and quoted) along with 8 other pillars in the real estate blogosphere, but we also got some pretty nifty brand exposure!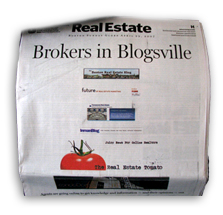 Also included in the article:
CondoDomain
St Paul Real Estate Blog
Bring The Blog
Stephen Meltzer
Future Of Real Estate Marketing
Inman Blog
Boston Real Estate Blog
Transparent RE
This is definitely an honor and highlight that has inspired another year's worth of Juicy Content.
Was this forehadowing?