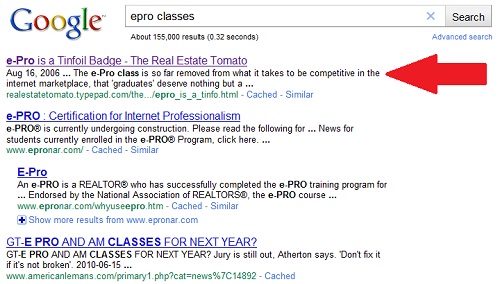 Quick, but powerful post.
Did a search for "epro classes" on Google today.
Above you will see the updated screenshot of the results.  The Tomato article from last month is right there, at #3 as you can see, we are now ranking #1 in Google.
One article, from a couple of weeks ago and everyone searching "epro classes" or "epro class" will now have an opportunity to see what I think of NAR's class.
This is proof that blogging is a very powerful tool when it comes to being found in the search engines.  The Real Estate Tomato is not about 'epro classes' – not in my keywords, not in my metadata, and there is only 1 article (of over 120 articles) on the site about the subject… yet there I am, discouraging people from spending their time and money on the class.
Blog articles can be seen as breaking news.  Why this is?… I'm not the expert (yet) to answer that.  Search engines like Google treat breaking news as extremely relevant content when it comes to the search results they publish.  This effect wasn't the reason I started blogging, but it is the reason why I know I will never stop: My voice is being heard.
I see the Tomato coming up all over the place for combinations of terms I use in my articles.  In addition, my articles are also coming up from my participation on ActiveRain, Digg, Reddit, NewsVine and EzineArticles.