The Commercial Real Estate Blog, Needle in a Haystack.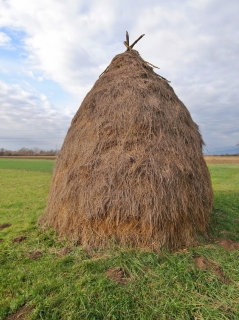 (Please note that if you are looking for help developing a custom, commercial real estate blog, we can help)
Blogging has been the avant garde in real estate for a couple of years, to the point where there isn't an agent that hasn't at least heard of the phenomena.
Inman dedicates two days to it, Realtor.com is on the bandwagon, and all the Big Box agencies have now been forced to consider it.
One irony however, is that a liberal estimation of the percentage of real estate agents that actually call themselves 'dedicated bloggers' is less than .01.  To think that such a small percentage of the industry has had such a big impact on it, to me, reinforces the reason it is so damn important.
But the more alarming fact is that the world of Commercial Real Estate has completely overlooked blogging as a viable means of online marketing.
Last year, in February, I was interviewed by Mariwyn Evans, a senior editor for Realtor Magazine on the subject of Commercial Real Estate Blogging.  She was looking for some insight on whether or not blogging was "for" commercial real estate practitioners, given the scarcity of their existence.  My response: Blogging can be an incredibly effective marketing tool for anyone that relies on content as part of their business model.  But as to where they all were?  I had, and still have no idea.
Where are all the Commercial Real Estate Bloggers?
It would make a convenient excuse that I have been searching for them all month, hence the lack of posts here at the Tomato… but the reality is, I just spent a few of hours digging through Google, Technorati, blog directories, ActiveRain, Twitter and blogrolls and came up with the following, piddly little list.
By far the most celebrated and visible commercial real estate blog I found is SquareFeetBlog. Their most recent post is the 14th of Nov, but their normal frequency is as much as several articles a week.
From there, I located a total of 10 active CRE blogs.  Listed in order of their most recent post, you are looking at the trailblazers of the industry.
Adam Commercial Minneapolis Commercial Real Estate
Latest post: 11.25.08
Lon Peper – Large Commercial Real Estate
Latest post: 11.25.08
Hans Hansson – Starboard TCN
Latest post: 11.25.08
American Apartment Owners Association
Latest post: 11.24.08
Masoud Saberzadeh – Las Vegas Commercial Real Estate Blog
Latest post 11.24.08
Nathan Hughes – Richmond Business & Commercial News
Latest post: 11.24.08
Michael Mandel – Brokered – Thoughts on NYC CRE
Latest post: 10.28.08
Terry Hand – The Commercial Real Estate in Athens Blog
Latest post: 10.23.08
Rob Powell – Investing for Wealth
Latest post: 10.07.08
Will Hicks – Commercial Real Estate in Memphis and our Galaxy
Latest post: 8.28.08
Social Networks and Multi-Contributor Blogs
ActiveRain, boasting 100,000+ members has a whole roster of Commercial Real Estate Agents, but after looking at about 20 of the CRE members' blogs, it's clear that blogging on topic isn't really a priority.
Only two ActiverRain bloggers are consistently blogging about CRE:
Michael Setunsky
Gregory Garver
EWM has a bunch of agents contributing to their Commercial Real Estate Category!
BiggerPockets has a a Category for Commercial Real Estate blogging, but there are also only two active participants: Rob Powell and Ted Karsch.
NAR Commercial Real Estate Blog (now defuncts, and never really got started)
Twitter
MicroBlogging is blogging to some degree, so here's the Twitter Wire on
Commercial Real Estate and Commercial Real Estate Blog
Must Mentions
Rofo.com – "Commercial Real Estate For The Rest of Us"
Rofo is an online network helping connect investors and brokers with advice and property.
I have to thank Sean Murphy of Rofo for inspiring me to write this post.  He had asked for some exposure on the site and I returned with a request for a blog about commercial real estate blogging.  His submitted article, which we won't be posting, made some of the above observations.  So, thanks Sean!
My personal favorite CRE industry blog is Sibdu.com.
Similar to the Tomato's effort of helping the RE industry leverage blogging as an effective marketing tool, Bob Woods and Brett Rogers have built an invaluable resource for the CRE industry to learn how to leverage the advancements in technology and marketing.
Notable online resources for current articles on CRE:
National Real Estate Investor
Commerical Investment Real Estate Magazine
Wall St. Journal Commercial Real Estate
Commercial Real Estate Direct