Simple Checklist for Blogging Success.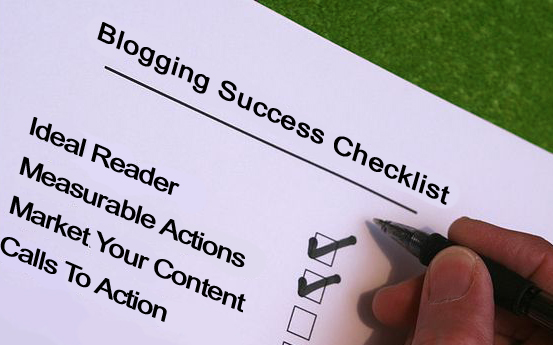 Several years ago I heard the formula for success in entrepreneurial business straight from the lips of a multi-millionaire.
The steps were clear and without need for interpretation:
1. Clear Goals
2. Hard Work
3. Unwavering Focus
Recently I was asked to make a similar list as to what it takes to be successful as a real estate blogger.
The good news is that it is much easier than making your first million.  =)
The bad news is that I need to provide a little description with each item to prevent misinterpretation.
1. Determine Your Ideal Audience and Consider Their Needs
Not unlike having "Clear Goals" it is crucial to know who you are blogging to and why.
I have written about how to determine/define the ideal reader many times, but while I am making lists…
a. Who do you want/enjoy to work with?  Seriously.
b. Where do they want to live?
c. How much do they want to spend?
d. Family?  Career?  Hobbies?  Politics?  Education?  Name?  Gender?  Age?  etc.
Now that you can picture them, ask yourself two simple questions:
What anxiety about real estate keeps them on the computer at night?
What questions are they asking you?
If you write about these, I promise they will find you and will read your blog.
2. Create Measurable Actions and Results
"We are what we repeatedly do. Excellence, then, is not an act, but a habit." -Aristotle.
Failure creeps in when you fail to see progress.
First of all, set specific goals for your writing pace.  My recommendation is that 2-3 times a week is the minimum.
If you track this effort, you are more apt to maintain the pace than if you just write when you feel like it.
Secondly, set up traffic measurement tools like Google Analytics.
Knowing how many people visit, what they came looking for, how long they stay and what they experience arms you with the insight to make intelligent writing decisions.  Watching these statistics grow with every article you write is not only satisfying, but it is the fire you need to maintain the effort.
Tip: Keep data tracking simple.  Don't get lost in the analysis.
"We are what we repeatedly do. Excellence, then, is not an act, but a habit." -Aristotle.
3.  Market Your Content.
There are just two ways your audience will find your content if you fail to market it.
Either your articles appear as results in the search engines, or they have subscribed to your feed and are notified of new content.
It is up to you to gather new eyeballs and grow your reach.
Here's an incomplete list of ways to drive quality traffic to your articles, with little effort:
-Facebook Fan Page, Twitter and LinkedIn Status Updates.
(tip: When adding the link, write something compelling that draws attention to the value of your article)
-Social Bookmarking to Digg, Reddit, Delicious, NewsVine or the like.
(tip: These services require an account, and your topic and headline writing ability will determine your success)
-Email Database Blast
(tip: Instead of blasting your base with every new article, compile your best content into a monthly blog update encouraging subscription to your feed.)
-Ping Your Articles.
(tip: Most blogs already ping, but submitting your site to Ping-O-Matic extends your reach in the SEs)
-Make It Easy for Others to Share/ReTweet/Bookmark the Content on Your Blogsite.
(tip: Participate in a group that ReTweet or Share  your content to a great audience of your target readers)
-Syndicate (repost or feed) Your Content to Other Websites to Which You Have Access.
(tip: ActiveRain.com is a good place, as is your static real estate website, should you have one)
-Add a Feed of Your Headlines to YourEmail Signature.
(tip: Use Feedburner.com)
4. Locate Effective Calls-To-Action.
Once you attract the audience, you'll need to direct them into an action that gets them closer to doing business with you.
Create clear and actionable buttons/graphics/statements that get the attention of your ideal reader, and only your ideal reader.
In order for CTAs to work they need to be limited in their number so as to be noticed and have the maximum effect.  Consider the 2-4 things that your ideal reader needs to know that you (or your website) can do for them, and place visible action graphics that stand out for these items.
And for Pete's sake, try to be unique, and yet still to the point.
Bonus tip:
Post a visible message on your desk, "Did I do anything that improved my blog today?"
If you want to master these techniques alongside a personal trainer, contact us right away to schedule a session.