We've got a special treat for you this Monday after the Inman Connect Conference in SF.  Guest blogger Todd Carpenter from Lenderama.com and DenMod.com has delivered a quick and hard point about the use of Social Media in the Real Estate Industry.
Thanks for the post Todd… but now I am going to have to explain this whole Twitter thing to our base.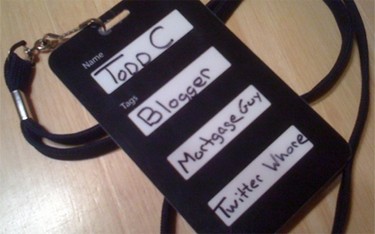 I didn't even make it through the first session of Inman Blogger's Connect before posting to Twitter with discouragement:
"I can't spell, have bad grammer, don't care about comments & am intensly personal on twitter. Maybe I'm not cut out for this."
Yes, I can see now that I misspelled "grammar" and "intensely". All the better to prove my point. After all, I'm writing this post and you're reading it. I guess I am cut out for this after all.
For the most part, the advice covered in the first session wasn't bad advice, just not the advice I would give. The second worse speller in the blogosphere (besides me) is Teresa Boardman, and she seems to be doing pretty darn good as a blogger. Dan Green doesn't even allow comments, and he's the single best mortgage blogger out there.
The one bit of advice that did brake the camel's back though, was the statement from one panelist that nobody wants to here about your cat. She then went on to say real estate agents should use tools like Twitter to broadcast things like open houses, or new listings. It's taken me almost a year of social networking interaction to figure this out, but I can't agree. In fact, far from it. I've found that the more personal I become on social networks and blogs, the more business I do.
This is not an easy thing for me to say, because it means that I was very wrong about social networking from the start.
This is not an easy thing for me to say, because it means that I was very wrong about social networking from the start. I'm the guy who still holds the number one position in Google for "stop throwing sheep at me", my post on how ridiculous I think it is to market on Facebook.
There's a debate this weekend on Bloodhound Blog arguing the merits of voting for Generation Y vs the Baby Boomers. You know who I market to?  People who will want to do business with me. You know how I'm finding them? By becoming more and more personal on my blogs, my social networks, and in person.
SF Connect 07 was a business trip. SF Connect 08 was a vacation. Yet I managed to close far more business this year than last.
It's my business to network with real estate agents. Reaching them through online social networking has been highly effective, but only after I became far more personal.
While many bloggers at Connect were busy with hash-tags and highlights from the seminars, I used Twitter to brag about the Altos Research after, after hours party (which was EPIC by the way), or to find people to go to lunch with, or to comment on Lani's uppity standards when it comes to drinking tequila.
Unprofessional? Yes. Absolutely unprofessional. That's the point really. Social networks are not about being professional. Being professional on social networks can even make you look like a bit of a square. The people who might think you aren't professional enough probably don't even know what Twitter is. Tweeting only your open houses isn't going to earn you any whuffies in the world of social media.
Reputation management is a vital skill set these days. You may decide that letting your hair down on Facebook or Twitter is bad for your professional image. Hey, I won't argue that. You might drive away more potential business than you earn. But please don't tell me that people don't want to hear about my cat, because many people do. I see it my own business every day.
By the second session of Inman Connect, Linda Davis was talking about how important it was to let your personality shine through on your blog. Linda is awesome. One of those great people who you know before you ever meet her. Someone I made a point to to hug before I left. She's an example of the sort of magic you can work online by just being yourself, and not worrying about the latest stats, listing, or open house.
But who knows. Maybe she's not cut out for this either.
—
Thanks again, Todd!
Todd Carpenter is editor of Lenderama.com and DenMod.com. He's also the organizer of REBlogWorld, a real estate focused blogging conference on September 19th at the Las Vegas Convention Center.