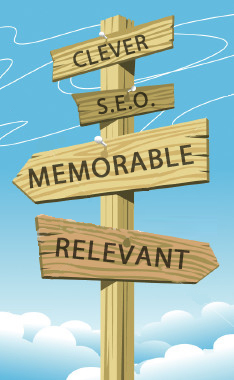 Without doubt, the most common question
that I get from brand new blogging clients is,
"Can you help me choose a domain name?"
The days of agents using their own name as their website identity are gone, and this has them left with the task of developing a new, powerful brand.
After answering this question and setting up several hundred domains over the last few years the formula has become clear. That said, you could probably break everyone one of these 'rules' and still end up with an incredibly successful blog.
But before we get the guidelines, you need to get into a Domain Buying State of Mind.
What Are You Going To Be Blogging About? Ultimately your content will determine your success, not your domain name. However, taking into consideration what your topics of focus are to be make a nice direction for your site's name, and help potential visitors understand your focus.
Who Is Your Ideal Reader? Once you can define who you need to read your blog, you can consider what impact the domain name will make on them.
What First Impression Are You Looking To Make? We ask this question in our design interviews because it makes all the difference in connecting with what our clients' design needs are. This consideration can make a difference in your domain name selection.
What Are Your Blogging Goals? Leads VS Relationships – Communities VS Traffic – You As The Expert VS Your Site As The Tool.
Who Will Be Writing On The Blog? Is the name you choose going to work for everyone involved?
Basic Guidelines to Choosing A Real Estate Blog Domain Name
1. Easy To Remember
If your audience can't remember your domain name at first glance then you have made a poor decision.
Note: Terms like "Real Estate" and your community of focus (San Diego, for example) are incredibly easy for your audience to remember. If your blog is a real estate site about San Diego simply tag a word that's easy to remember to that and you're fine. Wire, Voice, Blog, Report, News, Wave, Juice, Crab, Cafe… are all examples of single words added to an easy-to-remember combination.
StPaulRealEstateBlog.com
StLouisRealEstateVoice.com
MiamiRealEstateCafe.com
I'm not suggesting this type of combo as the best alternative, but it is common for a reason; it's memorable. (There is one clear peril to using a term like 'blog' in the domain: Your site may grow to be bigger than the identity of the blog, and yet now limited, in impression, by the domain).
Beware of easy to confuse combinations of words. If the order of words don't make a strong impact, or don't have a natural order, you can be sure they will be jumbled, and your potential visitor will end up on someone else's site.
ChicoHomeSearching.com VS HomeSearchingInChico.com VS ChicoHomeSearch.com
And finally, if it can't be remembered, it can't be branded.
2. Easy To Spell
If your audience can't remember your domain name at first glance then you have made a poor decision.
Google does a good job of suggesting words when it catches a misspelling with their "Did You Mean?" feature. But that doesn't mean that they will suggest your site. And, not all browsers automatically utilize a search engine if they don't recognize the url.
If you cover a community that is commonly misspelled (Schenectady, for example), it would be worth buying domains with common misspellings just to cover all bases. I own RealEstateTomatoe.com, and you wouldn't believe how much traffic I still get for this misspelling.
And finally, if it is difficult to spell, it makes your domain harder to remember.
3. Value Of Keywords
The question is, "Do I Need "Real Estate" in the Domain Name?
The short answer is: No.
The other question is, "Should I have keywords in my domain name"
The short answer is: Yes, keywords are a benefit in your domain name. The reason is because when you are linked to, by another site using your domain name, the link the use contains these keywords, and they are considered a relevant description by the search engines. For example, if I link to SantaBarbaraRealEstateVoice.com from this article, the spiders will see the keywords Santa Barbara Real Estate associated with my link, giving a description to the site I am linking to. This is a key element to success with inbound links: that they clearly define and describe your site. You'll see me regularly use keywords (and alt titles) when I link from my articles to boost the value of the link for site.
-BUT- Keywords in a domain are not required for your site's success. Most of the successes you will gain in the search engines come from your content, not your domain name. I recommend that you first consider the memorability of the domain before you start adding keywords, just for keyword's sake.
Some favorite real estate blogsite domains without a definitive keyword:
Miamism.com
HomeSection.com
CentersAndSquares.com
4. Length
The length of the domain is certainly relevant to the above considerations. 5 words in a domain name is not necessarily too many if it makes sense. Take Valerie Fitzgerald's domain name: LosAngelesRealEstateTalk.com. The name of the area and the term 'real estate' are a given, leaving just the term 'talk' to be remembered. No one interested in reading a blog about real estate in Los Angeles is going to forget that domain name.
However, something like: CastleRockRealEstateHomesForSale.com is ridiculous. It is difficult to remember, keyword stuffed and a P.I.T.A. to type. Remember, the object is to create a powerful brand that supports your powerful content, not to make a mockery of your site's name just to improve your SEO.
5. Relevance To Your Audience
Remember, the object is to create a powerful brand that supports your powerful content, not to make a mockery of your site's name just to improve your SEO
This is where it gets fun and creative choosing your domain name. If you choose a domain name that makes a strong impact on your audience, versus worrying about SEO and keywords, you start to win them over upon their first visit.
BeltwayRamblings.com (Reference to the Capitol Beltway of I-495 and I-95 around Washington DC)
TheFrontPorchView.com (Dedicated to North Georgia Mountain Real Estate, think vacation cabins)
PostCardsFromTheLake.com (Lake of the Ozarks second home anyone?)
Fun, clever, odd, easy-to-remember. The impact can be the branding you need. I know that naming our site Real Estate Tomato set us apart made a huge impact on our success from a branding perspective.
6. Theme Of Site/Design
You know what you want the theme of your site to be, but you aren't sure what to call it yet.
This happens all the time with our new clients. One fun example was Rick Smenner who wanted to make sure that his site's theme was based around Knoxville and their beloved Tennessee Vols. Eventually, the name was chosen based on their nickname: Big Orange.
TheBigOrangePress.com
7. Articles and Intro Words
"The, A, An…" Putting an article at the beginning of a domain can get you your dream combo. However you are walking the line of being confused for the original combination that you couldn't register (TheRealEstateBlog vs RealEstateBlog,). Sometimes it is too hard to resist and you'll ignore the concerns… but be certain, they're there for a reason.
The better reason to pick up domains with introductory articles is to avoid someone else grabbing one and creating confusion as your competition. Yes, we own TheRealEstateTomato.com too.
"My, Your, …" More distinct intro words can eliminate some of the combo confusion caused by articles because they carry meaning behind them. YourHoustonVoice.com certainly stands out as being different from HoustonVoice.com. The only concern I would stress is the length that domain names grow to by adding intro words.
8. Anything Other Than DotCom?
The short answer is No No No.
My advice is to avoid having to choose a domain other than .com at all costs. The only exception is to make the minor investment to pick up those supporting extensions (.net etc) to prevent some joker from buying (and using) them, or because you have alternative plans with the same branding. Yes, we own RealEstateTomato.net. We have used it as our development domain for sites under construction, but now it just forwards to the blog.
9. Extras: The Hyphen and Numbers
Domain names do allow for numbers and hyphens, the only characters outside of the alphabet. But does that mean you should use them?
Number Pros:
Numbers shorten domain names.
Expand availability.
Zip codes and area codes are real estate relevant.
Number Negatives:
When telling someone your URL you need to make it clear that you have a number in the name to avoid confusion.
Hyphen Pros:
Expand availability.
Hyphen Negatives:
Ever try to tell someone a domain that has hyphens in it? Total PITA.
Hyphens are easily forgotten, and you probably chose your hyphenated domain because your first choice without hyphens wasn't available. Guess where your traffic is going now.
In my opinion, hyphens look tacky, and tacky does not brand well.
10. The Age Exception
In some cases, older domain names can be enough of an asset to ignore most of the above advice.
When redesigning an established site to include a blog, it's better to just leave it as it is currently named. If you have a domain that has been active for many years, it is argued that the search engines will be more apt to give it authority in search results. And finally, if you have a lot of traffic coming to a domain name, it's best to not change horses in the middle of the race just to satisfy my opinions.
If you do find yourself using an established domain name for one of these reasons, it may be useful to brand a strong image and/or slogan for the blog.
A great example of this is Sandy Bauman's site: ChicoHomeSearch.net.
She breaks most of my rules above. First of all, she works in at least 2 other major markets outside of Chico. She is using Home Search in her blog's name. And, she is using the .net extension. BUT… this domain name was registered 8 years ago, has been live ever since and she has completely re-branded herself, as you can see. She also is killing it in the search engines, and this blog now accounts for more than 75% of her new business.
So who am I to tell her to change it?
____
Quick and Dirty Tips (read: opinions)
Unless you are incredibly well known, don't use your name in your blog domain name.
Don't name your blog with terms like Homes, Search, Property, Listings, etc.
Careful not to paint yourself into a community/niche that you may grow out of.
Domain Name Resources:
My favorite lookup service: InstantDomainSearch.com
Where I buy all my domain names: GoDaddy.com
And finally, I owe a link to Mr. Joe Spake for winning the music theme contest on Tomato Radio a few episodes back. So here you go, Joe – visit : spake.com and MemphisRealEstateBuzz.com