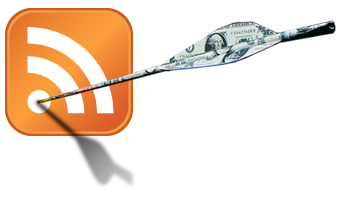 Today's post is a special treat!  Dave Smith of the Real Estate Blog Lab (and many other blogs) has found that he has so much to say, that he needs yet another outlet… and we're happy to be there for him.
We are looking forward to publishing at least a couple of posts a month from him, focused specifically on our most popular topic of Real Estate Blogging Advice.
So, without further adieu…
Subscriptions and Subscribers: Where Are You Aiming?
By Dave Smith
Much is made of getting Traffic, Readers and Subscribers to your blog.
However, not all blogs should have the same goals.  If your blog is monetized then it is clear that you want as many readers and subscribers as possible to see your pages.  But how many of us who are Real Estate Bloggers have actually monetized our blogs and are looking to make money from traffic and clicks?  I doubt very many are making a living or any real revenue from ads.
Extra reading from RET:
7 Compelling Reasons Google AdSense Will Ruin Your Real Estate Blog
I wrote today's post to examine the difference between a short-term need Business Blog and a long-term need Business Blog.
Ongoing Interests Vs The Specific Need or Want
When I'm searching for a new home I start searching on the net.  I look at homes, communities, activities etc.  But once I've bought my home and moved to the community I stop reading about real estate and available homes in the community.
I was using a targeted search to find specific information about a particular event in my life.
This is unlike my hobby "Photography" this is something I'm always reading about.  There are new things in the field of photography going on all the time.  Cameras, software, photo sharing sites, services for storing photos.  Tons of information is out there for my hobby and I subscribe to those blogs which keep me coming back and reading because this is an ongoing passion in my life.
I also subscribe to several photography magazines for the same reason.  One about Landscape Photography, one about Outdoor Photography and one on photography in general.  I have blogs that fit in each of these categories.
At the Real Estate Blog Lab I want subscribers.
Unless anyone plans to quit blogging or stop using WordPress as their blog platform I want readers coming back to read what I've discovered about the things going on in the WordPress and REBlogworld (I like that term, thanks to Todd Carpenter and Jason Berman).
My business blogs are not structured to attract that regular reader traffic. I'm writing to have informative content about Tucson on the internet structured in such a way that it comes up competitively in lots of different searches (The Longtail).  This means I'm looking for more pre-qualified clicks and readers – not long term subscribers.  If someone subscribes, that's fine, but that's not why I'm blogging and I'm not going to focus on getting more subscribers to my business blogs.
If you author a blog with a specific topic of ongoing interest, then subscribers are your goal.  If your blog is to help provide a service or meet a short term need, subscribers are bonus.
Comment Expectations on a Business Blog
Many RE Bloggers get caught in not recognizing the audience they are trying to reach and in-turn understanding the expectations of that audience.
At the Lab I expect RE bloggers to weigh in on topics and add to the discussion. I get a lot of comments and enjoy answering questions as well as gaining new insights into issues and products.
On my business blogs I hardly ever get comments and don't expect them.
I'm writing to provide information and resources, not to generate discussion. This is where many RE Bloggers get discouraged.  They haven't come to understand that the nature of the business blog is looking for qualified potential clients.  Your efforts aren't going to get a lot of feedback until the audience is ready to reveal themselves to you.
My take is that if I get too many 'agent comments', my target audience will feel they are the outsiders to the discussion.
If you have the need for feedback then get a Twitter account or become a member of a forum where you can have that yearning met.
It is too bad that many RE bloggers get discouraged because they aren't receiving comments on their posts. In a social network, you expect to find two way communication.  On a RE Business Blog, however, for the most part, you aren't going to attract people that are looking to build an online relationship. Your audience is trying to find information and someone they can trust to help them buy or sell real estate. This is falls under the category of being a 'short term need'.
Who Should Be Commenting On Your Blog?
Finally, if you are authoring a Real Estate Business Blog directed at potential buyers and sellers then you must commit to them as an audience.
Comments left by other agents on your blog are actually polluting your message.
Once again, at the Lab I expect agents to be leaving comments.  And, to the chagrin of some, when it comes to my RE Business Blogs it is rare I approve a comment from a Real Estate Agent.  My take is that if I get too many 'agent comments', my target audience will feel they are the outsiders to the discussion.
When a potential buyer or seller is ready to comment I want them to feel welcome to participate and not be preconditioned to think only agents leave comments on the blog.
What is your target audience?
Who are you writing to and for?
Is your blog something people would subscribe to if it were a magazine?
Are you meeting targeted short term needs?
Answer these questions and you will gain a greater understanding and grasp of your Subscription and Comment Expectations.
Thanks Dave!  We love having you on the Vine.
Dave Smith: Realtor, Techie, and Blogger for the following blogs:
Real Estate Blog Lab
Tucson Real Estate In The News
Oro Valley Real Estate