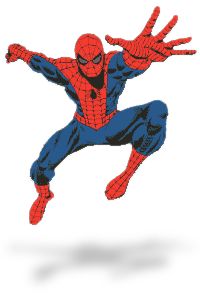 "With Great Power There Must Also Come Great Responsibility!"
– Stan Lee, Creator of Spiderman
As Google has become a household name (and a verb), a certain amount of faith has followed that recognition.
We all now seem to have a certain level of trust in the results that Google provides, regardless of the fact that some if it may not be.
In September 2000, keen bloggers soon discovered a search engines results loop hole, coined Google Bombing.  The idea that if enough bloggers all linked to a predetermined page and all used the same anchor text, that webpage would soon appear at the top of the results under the anchor text search phrase.  At one time, the search phrase  "miserable failure" would bring up George Bush's Biography.  "On June 2, 2005, Yooter reported that George Bush is now ranked first for the keyword 'miserable', 'failure' and 'miserable failure' in both Google and Yahoo!." [1]
Because of the (sometimes misguided) faith that people have in the internet, and specifically the search engines, individuals that publish content online now have a social responsibility similar to an author writing for an offline publication.

It is well known that a well connected blog can almost instantly dominate the search results pages (SERPS) for less than popular search terms.
Take for instance an article we wrote about about the inadequacies of the e-pro course.  It was written on August 16th of last year and it still currently holds the number one (and two) search result in Google under e-pro class. Similarly, articles that were written back in college still appear in the search engine results when Googling our names.
Since just January 1st, 2007, the Tomato has been clicked on for appearing competitively for a staggering 594 different search words (and phrases).
Many of these results are:
People's Names
("Bernice Ross", "Teresa Boardman", "Marc Grayson")
Common phrases
("what to expect from a Realtor", "How much is my home worth",
Businesses
("Housevalues", "Postlets", "VFlyer", "ActiveRain")
On Target
("blogging advice", "real estate blogs", "why am I blogging, online lead generation")
Bizarre
("singing tomato", "beam me up", "wife swap blog" –
I never wrote about it, I swear!
)
The blog content we generate will persevere in the search engines as long as we host the site, and in some cases even longer.  RSS syndication, social bookmarking, content reproduction and splogs will have your written words online possibly forever.  What is published can be very difficult to take back, or reverse.  We have the responsibility of choosing our topics and rants wisely; you never know what you might regret 'saying'.
Topics and terms you should be sensitive about when publishing to your real estate blog:
People: You can have a permanent effect on the reputation of anyone below a D-list celebrity.
Mention people by their real name, wisely.
Yourself
Client
Friend
Enemy
Boss
Broker
Colleague
X-anything
Small Businesses: Reputation is everything for a small business.  In most cases they aren't big news on the internet.
Your article could easily be their most read PR piece.
Non-Franchise
Mom and Pop
Start Ups
Websites
Small Towns and Neighborhoods: If they are hardly on the map, they are hardly online as well.
Your write-ups can instantly be considered the 'authority'.  Use this power wisely.
Events and Organizations: Like the above, their advertising and internet exposure is mostly limited to 'little to none'.
In many cases, your article is the first impression search engine users will read.
We'd love to hear some stories of industry bloggers gaining that 'authority position' in the search engines for 'less than popular' search terms where you felt that you had an effect on an audience's perception of the topic mentioned.
Curiously, today, Jay Thompson over at PhoenixRealEstateGuy.com posted a similar article after a careless internet user dropped a rant in a public forum.  Seems we all need to watch our P's and Q's out there.