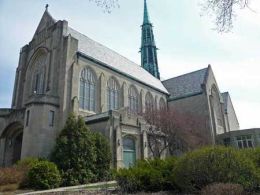 Blogging everyday is not easy.  I know.  At best, I've got a pace of 3–4 times a week.
However, Teresa Boardman, our resident real estate blogging goddess, is pretty darn consistent.  Looking back through her archives it's rare to find a day left unblogged.  So how does she find the motivation and creativity to keep it up?  Here's a peek into the history behind Teresa's Saturday offerings (to the gods).
Blogging on a Saturday – How Rewarding It Can Be
Jim and I have both said this a million times, well now a million and one times: it is content that makes our blogs work.  It is nice to have a pretty blog, and a blog that wins awards but if the intent is to meet people who have real estate needs then content should be a priority.
Saturday's are my lowest readership day. At one point I considered not posting at all on Saturdays.  However, one Saturday I was driving downtown and I happened to notice a church that I have seen so many times that I have stopped noticing it.  I was at a stop light and was amazed by how beautiful the building is.  An old church made of a kind of brownstone that isn't used any more.  It has a Gothic architectural style that makes it stand out, as it is surrounded by modern office buildings.
I took a few photos of the church while I was waiting and the stop sign … and yes while I was driving away.  I got home and did a little research and wrote a short post about the history of the building and the architecture.  I posted it in the afternoon and called it "Saturdays Church". My readers really responded to it.  They asked questions about architecture and commented on the photo.  I started featuring a church every Saturday.  I went out and took photos of every historic church I could find and started researching them.   In the process I learned a lot about about the history of the neighborhoods I work in and the general migration patterns in and out of St. Paul.
Unfortunately, many of my photos were lost when I tried saving them to a DVD and then for some reason could not retrieve them.  I went for a few weeks without posting any church pictures.  My readers responded by asking me when I would be doing it again.  A close friend started bugging me about it too, and a broker from one of the Keller Williams offices mentioned it as well. I started taking pictures of churches again and writing my Saturday post.
Other real estate agents in the area have started contacting me and asking if they can advertise the churches they have for sale on my blog.
In addition to learning more about architecture, and history and brining my readership up on Saturdays, people now call me when they want to buy or sell a church. I had no awareness of it but at any given time there are a dozen or so churches on the market in the twin cities. My specialty is residential real estate and I have no experience selling churches. In fact I have no interest in selling churches.   I called a friend of mine who is a commercial realtor and have been referring the leads to him.  We have not had our first closing yet but we will and when we do it will be nice for me because churches are more expensive than homes are,  and the commissions on the referral fee will be more than I would make for selling a house or two.  What I love about it is all I have to do to earn the check is take a picture, write a short post and make some phone calls.
Other real estate agents in the area have started contacting me and asking if they can advertise the churches they have for sale on my blog.   I have been invited inside a couple of the churches by local ministers so that I can take more pictures.  Out of town buyers love it when I show them St. Paul and explain the various churches and other historic landmarks around town.
This experience has taught me a some important lessons:
-One way or another we get back what we put out there.
-Creating content even on a low readership day can be rewarding.
-Doing something simple and easy can pay off.
-Experimenting and trying an idea out can be very rewarding.
-Doing something when I don't know what to do is often better than doing nothing.
-Content is king and my readers know what they like, I need to listen.
-I love taking pictures of churches and doing the research.
Writing a blog can lead to new opportunities, but it won't lead anywhere unless we keep typing.
Here is a link to Saturday's church posts
Here are some church pictures that have one some awards:
Award winning church photo
Award winning church photo
…this one has only been up a day but it looks like a winner.
Use them … or not. (I think the churches have improved my photography skills too)
Teresa Boardman is an exceptionally professional Realtor in the St. Paul, Minnesota area.
Her website: www.TBoardman.com
Her blog: www.StPaulRealEstateBLOG.com
Voice: 651-216-4603
Thank you Teresa.
As always, it's a pleasure having you 'on the Vine'.
Other Articles by Teresa on the Tomato