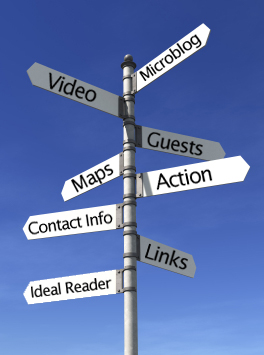 1. Microblogging
Twitter is all the rage… and yet most blogging agents aren't using it because they don't grasp the value.
Here's another way to approach the Micro-Blog: Instead of catering to the audience in a Twitter Community, consider those that are actually coming to read your blog.  Short updates from you about the market, your efforts as an agent, new listings, and news flashes are just the sort of thing that your readers will appreciate.  Now pop them on your blog, and syndicate that back up to Twitter instead of the other way around. (More on this in coming weeks)
Hot tip: When it comes to your blog, avoid the community babble that gave you the creeps when you first looked at Twitter: "Having a hard time deciding what cereal to get." Your audience came for tangible real estate topics, not the stream of consciousness that you feel the need to share.  Try: "Cleaning out the gutters for the today's 2pm open house at 123 Elm St, Eastville."
2. Video Blogging
With high quality and too-easy-to-use video cameras available for under $150, you'd be a fool to not start including local video clips on your blog.  Whether you post yourself vlogging, or replace the photo-op with a quick clip, your audience will appreciate it.
Hot tip: Try to keep videos under 2 minutes.  That digestible expectation will have them watching every video you publish.
3. Extending Your Soapbox to Other Community Experts
At Inman Connect last summer, we held a panel on Taking Your Blog to the Next Level.  My take then (and still) is that there is way too much Realtor-on-Realtor action happening in what are supposed to be local level real estate blogs, aimed at developing an audience of potential clients.  It took several paragraphs to cover all the bases in an article, so I will save the space and provide a link to the benefits of getting other local voices to carry the load of your blog content.
Hot tip: Once you know you have a local audience that cares about your efforts, it won't be difficult to get others to provide valuable content.  Trying to put the cart before the horse will be a hard sell.
4. Using Google Maps
<div class='pullquote'>I feel that the proper use of Google Maps will be what makes your site an invaluable resource unlike any other in your community.</div>I'm not talking about just popping a map on the site to showcase a location.  Google maps are so incredibly versatile now, that the range of resources you can create for your audience is endless.  To whet your appetite, here is a link to Lori Turoff's post that describes her Open House Map for Hoboken, NJ.
Hot tip: Next week, I will be publishing a comprehensive overview on how to leverage Google Maps on your real estate blog.  It will include several exciting map examples like Lori's above.  I feel that the proper use of Google Maps will be what makes your site an invaluable resource unlike any other in your community.
5. Including Unique Calls To Action
What separates a real estate blog that generates appointments from one that doesn't?  More often then not, it is Call-To-Action.  As bloggers you are writers/reporters, but most importantly, you are real estate agents that need to have appointments with clients.  Writing alone will not always be enough to get someone to act in a manner that leads them to working with you.  Place visible calls to action in your navigation, in your sidebars, in your footer, in your articles, in your videos and in your email blasts.
Hot tip: Spend some money to have someone design something nice for the calls-to-action on your site.  These graphics can be what get people to 'act' so it is worth a small investment.  Mix in a theme to the graphics that you use for your calls-to-action.  Cool looking icons, or a mascot will stand out, and yet not be seen as 'pushy'.
6. Advertising Your Contact Info in a Visible and Unique Manner
Teresa Boardman has expressed more than once that one of her biggest pet peeves is how so many real estate bloggers make it difficult to locate contact info on their site.  How can you take the time to create so much content, only to overlook that having someone contact you is the most important element of your online presence?
Take a quick look at your site from the visitor's perspective.  Who is the proud author, and how can I reach him/her?  Similar to the take above on calls-to-action, take the time to do something unique with the areas of your site that should be grabbing your readers' attention.
Hot tip: Leverage the online network that you are building and showcase one click icons to your profiles on Social Networks that people recognize; Facebook, LinkedIn, Twitter.
7. Policing Your Links
It's common knowledge that dead links can affect your SEO, but just as important, dead links make your site look unkempt to your visitor.  Routinely check the links that you offer in your blogroll, resource lists, and community pages, and make sure that they are still active.  Recently I weeded out over 20 bad links from by blogroll, and it occurred to me just how poor that must have appeared to anyone looking at the sites I claimed to care about.
Want to go even deeper?  Run Xenu's Link Sleuth and find every dead link in your archive.
Hot tip: Are you into Twitter, Facebook or LinkedIn?  Pay it forward with a short 'social-roll' link list to your favorite local profiles.  Yes, local… think about your audience's needs.
8. Writing to Your Ideal Reader.
Your knee-jerk first thought: My audience is far too diverse to have a specific Ideal Reader in mind when I write.  It's the same argument I hear when I try to pin an agent down to commit to focus on one specific niche community with their early blogging efforts; I'll work everywhere, why would I want to pigeonhole myself to one location?  I will be missing such a greater audience.
The answer is that it is much easier to write fluidly and constructively on a micro level then it is when approached broadly.  Sure the topics seem endless, at first with the broad stroke, but the value comes in your ability to hone in on the endless topics of a narrowed focus.  It is much easier to position oneself as the expert on a limited range of topics than on everything, everywhere.
Who you are writing to works in a similar manner.  When you can visualize the reader, it is much easier to explain things to them.  What's easier, explaining something to a friend or to a room full of strangers?  When you 'know' your audience, it will be much easier to deliver your ideas.  My advice: force yourself to consider who you are writing to; define them, and write to them.
Hot tip: Try to avoid writing for yourself.  Write to educate.  Your audience has questions, and you and your blog are the answers.
Have you got some examples of your implementation of the above?
Please share them with the community, we'd love to learn from you.