6 Secret Resources for Finding Real Estate Blog Topics That Attract Buyers.
"The charm of fishing is that it is the pursuit of what is elusive but attainable,
a perpetual series of occasions for hope."
-John Buchan

Actually attracting real estate buyers through the act of blogging can be seen as a lot like fishing.  It's the location of the bait, not the quality of the equipment that hooks the fish.  Knowing what to write about, at the right time, can be as rewarding as a favorite, yet little-known fishing hole.
One species of Ready-To-Act Buyer is the newly or soon to be relocated.
Knowing what questions they have and where they are finding their answers can have you standing waders deep in favorable opportunity.
New-to-towners have a ton of questions that they are using the internet to answer:
Where to stay?
Where to eat?
What activities are there to do?
What to avoid?
…and so on.
To me, the value of a local Real Estate Agent is beyond the 'offer-to-close' events. I see the agent as much a community consultant as a transaction consultant.  A well rounded real estate blog is a reflection of this range.
You commonly see RE bloggers detailing the amenities about their different neighborhoods, reviewing a new restaurant in town, or digging up interesting historical facts.
I've heard the argument that these kinds of community topic posts are a detraction from gaining the Ready-To-Act Audience that we yearn for.  I couldn't disagree more.  As necessary as the 'real estate consulting' content is, it would be like cooking without seasoning to ignore the value of well aimed, and even whimsical 'local color' content.
The challenge with writing effective local color content is that knowing your town doesn't always equate to knowing what blog topics make a wise investment of your time.
There are several incredibly resourceful, yet mostly untapped websites available when it comes to uncovering the "Right Now" questions of a potentially relocating audience.
1. TripAdvisor.com
This site is actually one of my least favorite travel sites online, but yet it proves to be a fountain of topics for targeted local color articles.
The reason I dislike it is exactly the reason why it is such a great resource for topics.  Every time I start searching on Google to plan a trip, this site is always in the top 10 results.  I normally look to find the Mom and Pop boutique inns, and it is sites like this one that have a strangle hold on the search results, making it difficult to find the places I would prefer to stay.
You must always remember that you are looking to leverage these networks to improve your business, not detract from it.
Because it has such a solid search engine presence, many people looking for answers to their travel questions find themselves relying on it for answers in the well maintained forums.
Take for example a TripAdvisor search for San Diego, CA.
There are an abundance of conversations about things to do, restaurants, night-life, where to stay, attractions, and resources.
TripAdvisor Forum San Diego
Sampling of Recent Topics:
– Snorkeling in La Jolla
– Condo to rent
– Moving to San Diego
– Dinner recommendations
I must make it clear that in any social network structure you can end up wasting valuable time by getting caught up in the social aspect of it.  You must always remember that you are looking to leverage these networks to improve your business, not detract from it.
Look at the exposure you can generate in forums such as TripAdvisor as opportunities to drive traffic to your blog, where readers will recognize that you are committed to their education and appreciate the focus of content you have built for them to enjoy (and respond to).
You are looking to expand the audience that embraces your blog as a resource, not necessarily mingle with them in the forums. The questions that you are answering in these environments are shared by many, and they will see you as the community expert.
Here's the link for the United States Forums.
2. Google Maps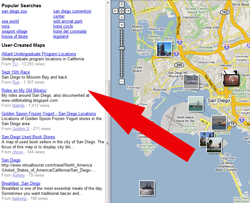 Search your general location at http://maps.google.com.  What you find to the left of your mapped result can yield a few gems for topics that people are most commonly searching when pulling up this same map.
A quick search of San Diego, CA reveals.
San Diego Zoo
San Diego Convention Center
Sea World
Wild Animal Park
Vons
Hotel Circle
Hotel Del Coronado
Legoland
House of Blues
Seaport Village
In addition, you can see user-created maps that reveal other topics of great interest:
Tip: Zoom in to your area, and the sidebar results can change offering more local content in relation to the map.
How can these topics reel in buyers?
It's about covering all the bases when aiming to attract an audience interested in visiting/moving to your community.
If you are able to uncover and write about topics that are commonly sought out by people using mapping tools for your area, then you can be certain, that with the SEO power of your blog, you will be getting yourself in front of a similar audience, through the search engines.
In the above example, the topics are on the minds of people searching about San Diego.  Rather than guessing what people coming into the area are looking for answers to, now you can start fishing where they school.
3. City-Data: USA Forums by State and City
I couldn't have made up a better example of topics that should whet the appetite for any real estate agent looking for buyers, and all of these are from the last 48 hours.
Similar to the resource that TripAdvisor has proven to be, City-Data has some pretty active forums geared to educate visitors, travelers and relocators around the USA.
Here's the link to the main directory by state:
http://www.city-data.com/forum/#u-s-forums
Staying with the San Diego Theme, here's a sampling of recent topics discussed on City-Data:
Single 32yr old professional moving to SD – Neighborhood Q's
25yr old male wanting to move to SD from NY
Young family in 20's moving to Imperial Beach. what should we know?
Cost of Living In Paradise
reloc from No VA to San Diego
I couldn't have made up a better example of topics that should whet the appetite for any real estate agent looking for buyers, and all of these are from the last 48 hours.
4. Local Level Forums on Topix.com
Most of the content in the Topix Forum's is built around local news stories that are hot now.  And, we all know that the media would rather report about the house on fire as opposed to the one across the street… so fair warning, this content is not always cheery.
That said, we all now know what an amazing impact a timely, local reporting article can have on your traffic count.
Here's the link to the main directory by state:
http://www.topix.com/forum/state/list
Again, staying with the San Diego Theme, here's a sampling of recent topics discussed on Topix:
De Anza Cove Residents Denied $48M Relocation Funds
Acting Classes For Kids
Sewage Spill Closes Large Area of Mission Bay
5. Outside.in
With a slogan like this: "Tracking news, views, and conversations in 11,860 towns and neighborhoods" you know you have got to be able to find something relevant and recent.
Outside.in is something of a combination of Topix and City-Data.  There are links and conversations about recent news topics as well as announcements and questions posted by its users.  It has not gained the traction of the above online-communities, but it has the makings of something with great potential.
Explore the USA
Explore San Diego
San Diego Discussions
6. Yahoo! Answers
Yahoo Answers is a beast, for sure.  Millions of users have asked and answered questions for years.  Digging in and finding topics that you can provide consulting for shouldn't be too difficult.  But again, I warn you: Do not get caught up in the social aspect of participating when you should be aiming to leverage this exposure to build your business.
Travel Topics is similar to TripAdvisor:

General Travel Topic
San Diego Travel Forum
Some of the questions in here are pretty bizarre.  I'll let you poke around.
For specific real estate topics, Yahoo! Answers is not broken up into local sections like all of the above, however with a few keywords in your search you can narrow topics to your location.
Rentals and Real Estate – General Topic
San Diego Real Estate – narrowed
Miami Real Estate – narrowed
Chicago Real Estate – narrowed
The fun element of this platform for communicating with an audience looking for answers to their real estate needs is that you are ranked based your ability to provide 'best' answers.  The more the community sees your responses to their questions as the most helpful, the higher you are held as an expert.