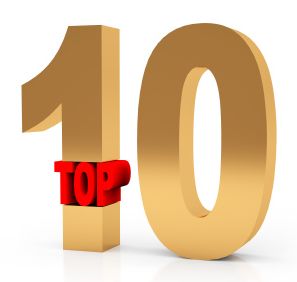 Photo by sam_churchill.
Normally I don't write articles about other articles online.  It just seems sort of bandwagon-like.  Today I have to make an exception due to the timeliness of an article written by our own Teresa Boardman over on ActiveRain.  The article was written in the Members Only area of ActiveRain, but I feel that the content is very much public worthy, so we're bending the rules and delivering it to you.
Teresa, who has recently made a stand on Localism in Real Estate Blogging, was driven to write the following real estate blogging guidelines as a surge in inane content plagues ActiveRain.
1.  No one cares about you or your health or that your father just died.  They don't care that business is bad or that a client just screwed you over.  Who wants to read about another's misfortunes?  We all have our own to deal with. Leave it off of your blog.
2.  Skip the commentary that everyone writes.  There are millions of posts that are commentary on national news items and who is who in the real-estate industry.  Are you adding value by writing about Trulia, Zillow or Redfin along with 10,000 other people?
3. Buyers and sellers in your local market may not care about blogging.  Writing about your blog or about other bloggers is interesting to those of us who have blogs but probably not very interesting to those who may be looking for local or real estate content.  Real estate bloggers have fallen into a predictable pattern.  They start with real estate content and after two months they start writing how to write a blog posts and then they start writing about other blogs.
4. Don't compete. It may seem really cool to be toward the top of real estate blog directories that measure hits and compare us against each other, but does it bring in the clients? Are all hits equal? How does having a bunch of real estate industry professionals reading your blog help win business from the general public?  Why compete with all of those blogs that are mostly about blogs when there is almost no competition for the local real estate content that the buyers and sellers who live inside your computer search for constantly?
5.  Stop imitating CNET. The real estate industry in general is not noted for their technological superiority. Most people interested in technology are savvy enough to check out TechCrunch, Engadget, Gizmodo and a slew of other blogs and web sites if they want to learn about the latest and greatest gadgets, hardware and software.  The topic is covered to the point where the best way for a real estate blogger to add value may be through commenting, because the comments on these blogs will be more widely read than the technology content on a real estate blog.  This also applies to ActiveRain, trust me I know you are all smart, but I get my technology from the technology industry.
6.  Stop gauging success by the number of comments. In the real world comments are not all that common on most blogs.  Lack of comments does not mean that no one is reading or that the blog is not working, it simply means that people are not commenting.  For every comment I get on the St. Paul real estate blog I get at least 5 emails.  I'll take the email because my responses allow me to build relationships on a more personal level.
7.  In my opinion advertising a listing is a no no.  Their are subtle ways of doing it, without doing it.  Like writing a story with a link to the listing.  My listings are everywhere on the internet and one does not have to go far to find tons of houses that are for sale.  Advertising listings makes a blog blend in with all the schlocky template real estate web sites out there.
8. Smaller might just be better – Writing to a huge audience doesn't make sense.  Most of my competitors are afraid to be a Minneapolis blog or a St. Paul blog or a neighborhood blog because they think they might miss out on business and want to cast a broader net.  Smaller is better and that niche blogs are the way to go since there are already zillions of web sites with real estate information for most metropolitan areas on the planet.  It is all generic type content and is easy to find.
9.  Stop blowing your own horn. Last weekend I wrote a facetious post about marketing me – "I am all that and a bag of chips."  I know that the post is ridiculous and one reader even asked me if I had lost my mind.  I honestly think that I demonstrated how not to write on ActiveRain or anywhere else.  I don't really care if you are all that and a bag of chips.
10.  Don't write a novel.  Blog posts do not have to be literary master pieces to win business.  A typo will not forever ruin your reputation, I think I am living proof.  Most adults will not take the time to read your entire lengthy literary masterpiece on how the MLS works.  Short posts with pictures seem to work best.
If you would like to read the article in its entirety, and participate in the dozens of comments that follow, you will need to be an AR Member.
Follow this link to her original post: Crossing the picket line – Local content (Members Only)
-Teresa Boardman
www.TBoardman.com
www.StPaulRealEstateBLOG.com
Voice: 651-216-4603
—
Thank you Teresa.  As always, it's a pleasure having you 'on the vine'.
Other Articles by Teresa