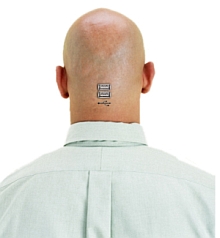 Plug yourself in, they're expecting it.
Our guest authors have been received very warmly here at the Tomato, and I think that this is a reflection of the quality of content that they have been able to produce.  I receive emails every week from bloggers looking for the opportunity at some exposure (read: links) on our blog.  In an effort to maintain the integrity of the content we deliver it needs to be clear that we are first and foremost a destination of knowledge for the online real estate industry.  The guest authors we choose to participate are those that bring a clear message of education to our audience.
This past week, I had the pleasure of making the acquaintance of Elizabeth Weintraub.  Elizabeth is a Sacramento area Realtor with an affinity for blogging and a keen understanding of the relationship between the agent and buyers and sellers.  The conversation we had was fast and furious because we both have too much to accomplish and too little time to talk about it, but she struck me as so interesting that I invited her to come and share some of her wit and expertise with you all.  Although the below article isn't entirely based on the influence of technology in the industry, we feel that it is desperately important to keep the following message in mind:
Top 10 List:
What Sellers & Buyers Expect From a Real Estate Agent
By Elizabeth Weintraub
I spend so much time on my computer that my husband says I should have a USB port installed in the back of my neck. But actually, I prefer wireless. Like my ear piece, for example. Ever since headsets went high-tech, I can no longer imagine trying to conduct business without the ability to multi-task, which wearing an ear piece gives me. I could be posting a blog, getting a manicure or putting gas in my tank and callers have no idea what I'm doing while I'm chatting away. I also have set up a series of chimes and buzzers on my BlackBerry so I know instantly which of my various e-mail accounts has forwarded a message to my cell. Because that's what clients expect from me, they want me to be available, to respond.
Speedy responses is one of the most important things sellers and buyers say they want from their agent, which is why it heads my Top 10 List:
Immediate Access / Response.
Buyers expect instant gratification and are not going to wait until you drive to the office to check for messages.
Sellers and buyers don't want to reach voice mail or an answering machine. They want you to answer your freakin' phone. If, for example, a prospective buyer e-mails, sends an IM or text message and doesn't receive a fast response, that buyer will call somebody else.
Buyers expect instant gratification and are not going to wait until you drive to the office to check for messages. Maybe the buyer will call a floor agent instead, because that phone number is readily available on the sign in the yard and contained in just about every online listing.
Then you've lost not only a possible buyer, but you've lost the opportunity to personally promote your own listing because you have intimate knowledge of how best to describe the details that another agent can't possibly do justice.
Honesty and Trustworthiness.
They want you to tell them the truth, even it means you could lose the possible sale. (It's also the law.) They want buying agents to point out possible defects in a home and seller's agents to lay it on the line as to what might cause a buyer to think twice about purchasing their home. They don't want hype, fluff, false promises, truthiness or reason to doubt your word. They want somebody on their side, a fiduciary, an agent who will hold their personal information in confidence.
Experience and Education.
Henry Ford once said that if you hire a person smarter than you are, it proves that you are smarter than they are. Everybody wants an expert — especially those sellers and buyers who rarely sell or buy; they want to rely on your experience and education. The day you decide to stop learning is the day you should think about leaving the business. If you're a 10-year agent, ask yourself: Do you have 10 years of experience or one year times ten?
How do you get there? You work at it. You read. You read newspapers, books, industry magazines, online news, blogs, and you participate with other professionals by attending board meetings or serving on committees. You attend workshops. You study the market and are prepared to explain movement, days on market, median sales prices, month-over-month and year-over-year details at the drop of a hat, the minute you are asked for this information.
You build a solid base of inventory knowledge because that is your product, your life line to commission checks. And you don't wait for a buyer-showing to tour property, you do it weekly.
Good Communication and Technical Skills.
The day you decide to stop learning is the day you should think about leaving the business.
The best way to know what today's sellers and buyers expect regarding communication is to ask. Some will request that you contact them daily by e-mail. Others will want a phone call once a week. You won't be able to fulfill their request if you don't ask, and once you do know what they want, here's what you need to remember: give it to them. Plus, under-promise and over-deliver.
Subscribe to an eFax service that will e-mail documents as PDFs or any other popular image formats because it's faster, easier to read and better than faxing. Because of e-faxing from Sacramento last month, I finalized deals representing clients in New Jersey, Colorado, Nevada, North Dakota and London.
Without it, I'd still be dialing. At the very least, follow-up with your sellers once a week by giving them feedback on showings, numbers on client hits, agent hits and virtual tour viewings.
Professional, Friendly, Assertive.
My mother, back in the Midwest, hired her agent because the person was friendly. The agent was inexperienced and sold my mom's house for far less than she deserved, taking much longer than was necessary to sell, but she was friendly and nice, my mom's two requirements. There are a lot of moms in the world.
Clients also want you to be assertive. Many view assertiveness as an unattractive trait in anyone other than their agent and impossible for them to muster, but they want you to be much more assertive than they would be. If they're sitting in the car in front of a home they suddenly decided they wanted to see, they are counting on you to get them inside. They want you to say "No" to others so they don't have to do it.
When I make appointments to show property and reach voice mail, I leave the time I plan to show and remind the sellers that they do not need to call me to confirm the appointment. I explain that I want to hear from them only if the time is inconvenient so I can show the buyers something else instead.
Nobody ever calls to say, "Don't come over." Recently I called a seller to see if I could arrange a second showing. My buyers had finished touring about a dozen homes that weekend and expressed a preference for a particular home we had previewed the day before. The seller, in a buyer's market, said, "Can you give us 20 minutes?" I replied, half-laughing, "Make it 7 minutes, OK?" Because that's what my buyers were thinking but were too timid to ask.
Neighborhood Knowledge.
If you don't know anything about the neighborhood, call somebody who does and get that information. (I'm lucky that my brokerage has 15 offices around town.) You can call other agents, neighbors or stop in local businesses; call city officials or public information officers.
Study market data for that area by pulling up MLS information on a radius search. Figure out the dividing lines between neighborhoods, which often are easy to spot on a map, such as freeways, main thoroughfares, railroad tracks, rivers or parks, and examine values on all sides of those markings until you find patterns.
Run a search on the street name going back as far as your MLS will let you search; you'll be amazed at what you will learn. If it's a listing presentation you're working on, realize that your seller already has this information and you'd better know it, too. Always run the property address itself in MLS to look for a history.
Pull the tax rolls on neighboring properties to find out who else lives there. Become a specialist in areas where you sell the most.
Price Guidance.
I tell them they have the largest interest in the home, at least 94% interest. Mine is much smaller at 6%, but for my six percent, this is what I suggest, and I name a price.
You are a professional with knowledge to share, so share it. Be prepared to state your reasons and justify your viewpoint. Sellers and buyers want your opinion. They aren't asking you what to do, but they want your advice. Now, in all fairness, I should disclose that I don't insist that my sellers list at a particular price because it is not my home. I tell them they have the largest interest in the home, at least 94% interest. Mine is much smaller at 6%, but for my six percent, this is what I suggest, and I name a price. I show them stats to back up my position.
On the other hand, I explain to buyers that I don't want to be responsible in case they pay too much or too little. Their money is not my money. If I suggest a price too high and the appraisal comes in lower, it will be my fault. If I suggest a price too low, and the offer is rejected, as far as the buyer is concerned, it also will be my fault. But I do guide clients and help them to pick a price. I deliver comparable sales to buyers before we write an offer. I show them market facts and trends for the area. I help them to make an informed decision.
That's my job.
Wide Network.
You're only as good as those with whom you surround yourself. Hang around with morons long enough and you'll be a loser. Every professional you meet is in some way able to help you with your career and you with theirs. The trick is to find out how you can help each other. It might not always be immediately evident, but you know what goes around, comes around. You will rarely, if ever, make an error if you are kind and help a fellow professional find ground without demanding anything in return.
For example, a while back I had to sit through a miserable lecture given by a completely boring speaker. After his session, he handed out review cards. Now, I felt like writing "I'd rather crawl through broken glass naked than listen to you again," but this guy was in his 70s.
I stopped to consider: Was this proposed feedback kind? Was it necessary? Would it change anything?
Couple days later I discovered this speaker owned a company to which I refer business. I was doubly glad I didn't say anything awful. In any case, forming solid relationships is the key to building a personal library of professionals.
Forming solid relationships helps your clients because your network can advise you in a multitude of ways. From providing first-hand information that you may lack, to talking over solutions to difficult problems or giving you a prospect referral, networks are invaluable. In addition, when a client asks you for a referral to a vendor, the client will expect you to give them a list containing a mortgage lender or three, home warranty companies, home inspectors, appraisers, pest inspection firms, escrow or title companies. Networking will help you to provide them with these referrals.
Negotiation Skills.
It's almost impossible to give the seller the highest and best price for a home and help the buyer purchase that same home for the lowest amount.
One of my pet peeves is this philosophy that all agents are simply transaction facilitators, put here on Earth to run paperwork back and forth between buyers and sellers, and then join hands with each other to sing Kumbaya. Sellers and buyers don't need an agent for that. A courier could handle that job. That obnoxious mouth-breather behind the counter at 7-11 could handle that job. A termite could handle that job.
You are smarter than that.
You can provide balance. But you are also likely a fiduciary to one party. It's almost impossible to give the seller the highest and best price for a home and help the buyer purchase that same home for the lowest amount. It's a conflict. When dual agency is done properly, neither side receives much representation.
So if you are representing one party, then represent that party because that's what your client expects. It takes finesse to keep everybody in the transaction feeling positive, motivated and eager to sign an offer during negotiations, and sometimes it just can't be done. Sometimes it's a war, a battleground, with clearly drawn lines. Sometimes you're going to alienate somebody. It's inevitable. But that person who is alienated better not be your client!
Good Sense of Humor
Not only do clients expect you to have a sense of humor, but it is necessary to your continued success. Being able to joke and laugh is what saves me from total insanity at times. As agents, we are greatly responsible for helping to maintain calmness, objectivity and rationale thinking, which is mandatory for our clients, not to mention for ourselves.
Laughter is a good thing, and we can't get too much of it. OK, maybe those Laguna Beach laughing-yoga(ers) who practice this ancient art by wiggling around in the sand, screaming gibberish and giggling are a bit over the top, but you know what? I don't think they are stressed. Nobody ever said real estate was not a stressful business.
We need a way to relieve stress. We need laughter.
Just don't expect me to laugh if I wake up with a splitting headache because space-flying aliens invaded my bedroom during the night to drill a USB port into my head. A microchip might be OK, though.
Elizabeth Weintraub is a Sacramento Real Estate Broker-Associate at Lyon
Real Estate. She also blogs and writes articles for The New York Times' owned Web site: http://homebuying.about.com.