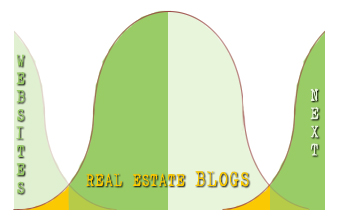 Recently Dave Sifry, writer for Technorati Weblog, provided a detailed analysis of blog growth in his State of The Blogosphere, October, 2006.  As of October, Technorati is claiming to track as many as 57 million blogs (see graph below).  Just 3 years ago, they claimed to be tracking as few as 1 million blogs.  And, in the last year alone the number has grown by as many as 40 million new blogs.
The obvious statement: The blogging trend has caught on.
As new technologies are introduced, accepted and utilized, the trend can be seen as a wave.
The wave is made up of 4 sections.
Let's call them Early Acceptance, Front Wave, Back Wave, and Late Acceptance.
The largest growth periods are seen in the Front and Back waves, while the trailblazers and stragglers make up the smallest growth periods.
If the trend graph holds up for the real estate blog, then our community is in for some serious growth.  Throughout this October, Pittsburgh Homes Daily, with the help of a few others, compiled and then published a comprehensive list of 500 real estate blogs to watch.
As the benefits, buzz and curiosity of the real estate blog ripple through the industry, we seem to be approaching the Front Wave.  I won't make a specific prediction for Oct 2007, but I'm confident that a comparably complete list will reach well into the thousands. If PHD plans to continue to compile real estate blogs to watch, he's going to need more than just few lending their support.
Another observation is that one trend generally usurps another.
With the advent of the blogsite (hybrid real estate website/blog built on a blogging platform), it could be argued that the Trend Wave for standard real estate websites is in sharp decline.
The blogsite has all the benefits of a standard site (IDX, CMA, community info, mortgage tools, etc) while at the same time fueled for success by the act of blogging. This will force web development firms to adapt as well, driving the wave upward.  Their options are to either work a fully functional blogging platform into their current product or redevelop their product completely upon a blogging platform.
Selling blogs separately, or offering an inferior blogging platform in their current product would be snake oil and a poor strategy for the client.
(Update – we no longer get the request to develop just a blog for clients.  Everyone is looking for a complete replacement site with the blog incorporated; the blogsite)
Soon enought, this blogging trend will be replaced by something else.
Any guesses or insight as to what's next?