Nothing but a FIRST CLASS organization. Jim Cronin and company design outstanding sites. But what really makes them stand out is the training they offer.
I have learned more about blogging and SEO during my training that has made me my money back I invested 100 times over.
I have a BA in IT and their training taught me more than I learned with my four year degree. I recommend them to any agent.
You are destined
to fail
as a
content marketer
Successful blogging takes discipline.
Successful blogging takes practice.
Successful blogging takes planning.
Successful blogging takes skill.
Successful blogging takes style.
Successful blogging takes knowledge.
Successful blogging takes commitment.
Since 2006 we have trained over
1,000 real estate agents to succeed with blogging
Here are the 4 most common questions we are asked about the training course:
What does the training course cover?
The following list represents the typical agenda covered in our 10 hour, one-on-one, live training course.
Content Creation (Blogs & Pages)
Introduction to Blogging
Critical Resources
Defining Your Audience/Topics
Content Creation and Management
Writing Content That Gets Read
Mastering Basic/Intermediate Formatting Skills
Effective Headline Writing
SEO (Search Engine Optimization) Basics
Proper Use of Images
Basic HTML Tips
WordPress
Basic WordPress Knowledge
Advanced WordPress Knowledge
Using and Adding Widgets
Plugins (Searching, Adding, Activating, Managing)
Comments, Trackback and Spam Moderation
Website management
Theme Design Management
Homepage Management
Internal Page Template Options
Content Organization
Content Beautification
Menu/Page Navigation Management
Sidebar Management
Marketing
Advanced Blogging Techniques
Best SEO (Search Engine Optimization) Practices
Social Networking / Offline Marketing
Social Media / Online Marketing
Website Traffic and Followers Analytics
Google Webmasters
Google Analytics
And all your questions!
Training agenda is neither required to be learned nor required to be taught in its entirety. 10hrs includes as much of the above as your level of comprehension commands.
What is the process?
Training usually begins immediately following the successful set up of your new custom themed WordPress website.
By training with an online webinar/teleseminar format, we are able to share our monitors live, as we introduce new tools, sites, techniques and concepts during training. We are right there with you, every step of the way!
Hours 1 through 10 are trained in a one-on-one environment with your personal consultant.
We train at your pace, and based on your availability, but we aim to meet weekly for an hour+.
The entire course typically lasts 2½ – 3 months.
Do I need the training?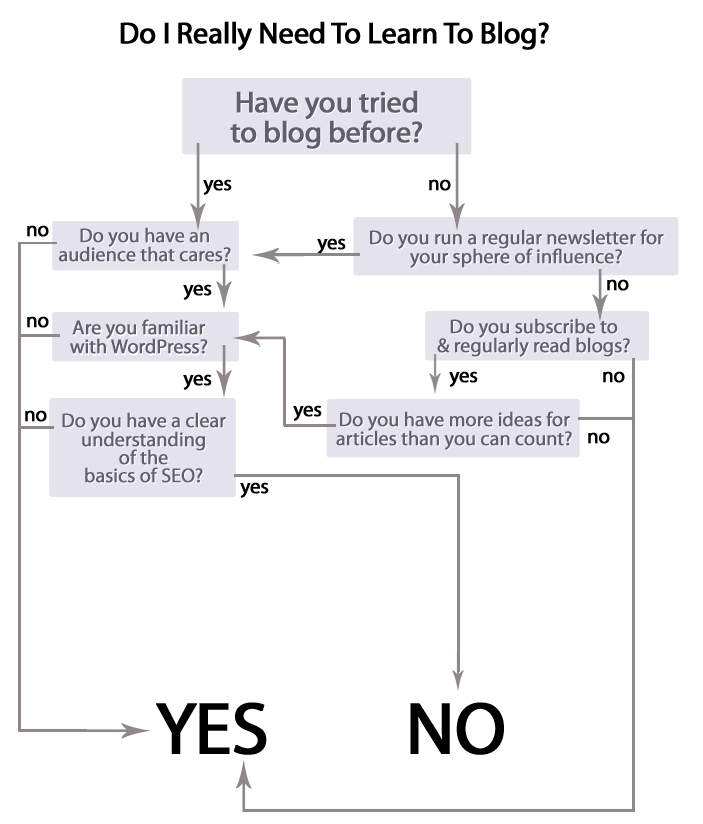 The above is a fun infographic – but the sentiment is clear. If you aren't already leveraging content marketing successfully, you most likely need the training. We are able to help absolute beginners, novice and intermediate bloggers, as well as those that have been at it for a while, but not seeing the results they want.
Since the training covers not only content marketing, but also website management, you graduate with all the confidence you need to drive your site successfully.
Do you have recorded video of all your training?
That's right, we don't pay anything to use WordPress.
Hosting 1000s of WP websites has a cost, but the platform itself is free.
Because we are not burdened to develop a competitive website platform, your investment can be applied directly to custom design work, training, and service.
Do I need to have a website with you to take the training?
The short answer is "no." You can train with us even if you don't have one of our sites, nor host with us.
However it would be best if you are on a WordPress platform since much of our training revolves around taking advantage of it. But having one of our themes is not required.
We'd love to hear how we can help you.