Real Estate Blogsite For Agents
Every New Real Estate Blogsite Begins with a Design Interview.
No prefab templates   No plug-and-play layouts No one-size-fits-all
Every site is professional and custom designed
by highly qualified web 2.0 graphic designers.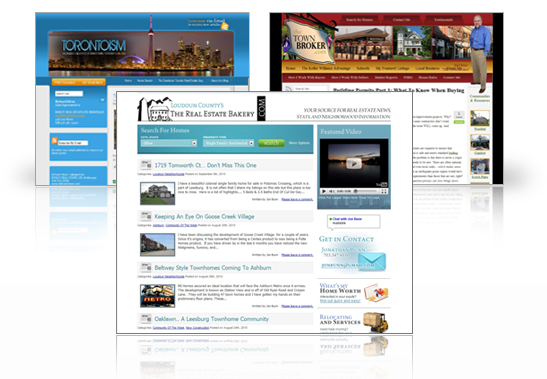 Unlimited Content Creation.
Arguably, the most useful element of our blogsite software is the ability to easily generate an unlimited amount of information, all of which being indexed by the search engines.  Because our real estate blogsites are built on database platforms, clients can easily develop any number of pages and posts, while maintaining comprehensive organization.  Having helped thousands of real estate agents develop their online presence, our staff is qualified to ensure proper real estate content and tool integration for your needs.
Unique Category, Sidebar and Header Development.
The larger your site grows, the greater the need for comprehensive organization.  Again, because our real estate blogsites are built upon a database, we can organize the content in any fashion.  For example: Unique sidebars can be implemented to organize different sections and/or categories of content, making for a much improved client experience.   Another common application would be utilize unique header designs to establish different looks for different sections of your blogsite; one category (or page) has one look, while a another has a completely different look.
Lead Generation Focus.
In our custom design process, we always place special attention on developing clear Calls-To-Action.  Whether it's searching for property, determining the value of one's home, or simply encouraging the reader to "ask the expert" you can create unlimited Custom Forms for capturing visitor information.
SEO Friendly Listing Pages.
Handsomely posting listings on your website can be a frustrating experience.  We have taken the pain out, and injected the Google Juice while we were at it.  Post and Manage an unlimited number of listings to your site with our user-friendly Listing Manager, and be confident that they will render handsomely every time.  Each listing can have a unique sidebar, allowing you to showcase any number of lead generating elements.  And, because your listings are seen as indexable pages on your site, the Search Engines will eat them up!
3rd Party Sites and Tools.
We're the experts at developing real estate blogsites, and training agents to be the online authority in their niche.  However, there are other useful, if not necessary tools available to the online Realtor, that we did not develop. Our blogsites are designed to seamlessly integrate these tools; IDX Property Search, Top Producer Lead Capturing Forms, VFlyer Property Flyers, etc.
Perfectly Optimized for the Search Engines
The proof is in the pudding.   Our clients gloat over the rapid success they experience when it comes to being found at the tops of the search results for the terms of their focus.  All content is SEO'd for increased organic search positioning.  All content is also 'Pinged' to all major blog crawling and indexing services.   Each blog article has it's own search engine friendly identity.  For more check out our articles on SEO.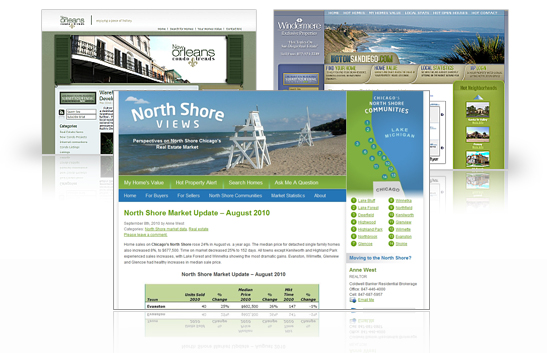 Social Media Leverage.
All articles are programmed with 'one click' social media broadcast links for 'surge traffic', an increase in back-links and more frequent search engine crawling.  Facebook, Twitter, Delicious, Technorati, MySpace, Digg, StumbleUpon, Newsvine, Google Bookmarks are just a sampling of the social media destinations to which your articles will be broadcast by you and your readers.
Podcast and Vidcast Capable
Podcasts and Vidcasts very easily integrated into the pages and articles.  Either host videos and podcasts on the same host server for search engine indexing, or re-broadcast from social platforms for greatest exposure such as GoogleVideo and YouTube.
Accessible Open Source Code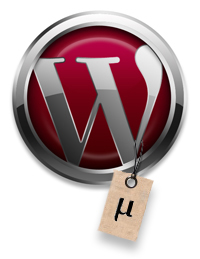 Unlike proprietary software, where you have little to no control to edit any of the code that runs the program, we build our blogsites using open source WordPress and/or WPMU.  This means that you have complete control to not only customize the look and feel, but also the freedom to edit any functionality of the site.  You are in complete control of your blogsite.  It is yours to do with as you wish. Take it with you, sell it off, hire someone else to change it completely.   We aren't tying you down like a proprietary coded web development company has to.Read more about why you should be investing in Open Source VS Proprietary Products
The Undeniable Benefit of the PlugIn
There is a ever-growing online resource of WordPress compatible PlugIns, that can very easily be applied to your site, adding the functionality that you are looking for.  Unlike traditional and proprietary sites, you can choose from 1000's of custom functionalities, written by independent coders, to improve your site's functionality.The Real Estate Tomato Team (read: Jason Benesch) has written a slew of custom PlugIns for our blogsites making our product the ideal solution for the real estate blogger.
API Integration.
Any web application that allows you to use their interface can be implemented on to the blogsite.  Again, because of the ability to edit the source code of the software, you have complete control over the addition of 3rd party functionality.  Popular examples include, but are not limited to: Google Maps,  Zillow, Eppraisal, LivePerson.
Showcase Your Listings.
With unlimited content creation, you can develop unlimited listings pages and/or blog articles to be displayed in any fashion on your blogsite.   Other options include the integration of 3rd party IDX Displays and Listing Flyers such as VFlyer and Postlets.
RSS Syndication and Subscription.
Readers can subscribe to receive notification of every new article by site, author and/or category.  In addition, you can re-syndicate your blog articles to any other destination willing and able to install the feed.
Detailed Statistic Analysis.
Analytic tools track detailed traffic statistics, search engine crawls and content popularity. Google Analytics and Site Meter are our preferred traffic tracking tools.
Spam Protection.
88% of all comments are spam.1 Protecting against spam will be the eternal battle. Fortunately we have Askimet and other powerful spam defeating PlugIns in our corner.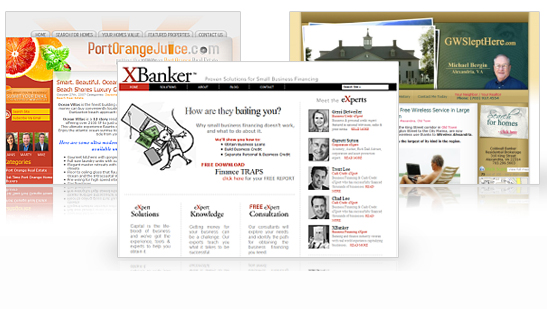 1. Quoted on 8/12/08 from http://akismet.com/
Our Most Recent Blog Articles
It's hard to ignore. The buzz this year has been all about the push for Responsive Designs. The sales pitch is...
Lori Turoff of Hoboken, NJ. Website: HobokenRealEstateNews.com Tomato: How long has blogging been a part of your real estate marketing strategy? LT: Well, ever...
The ubiquitous Property Quick Search has been a tough design element to evolve beyond. Everyone seems to have one, but is...